My first post is to share this. Hi there!
Sharing a singleton NPC (one NPC instance that persists though the stage).
Made him versatile in how you can use him across the stage.
He comes with 2 additional NPCs you can place to control how he acts when you pass them.
You can change what they do through the properties window
You can stack them together to have him do a sequence of actions.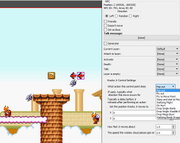 There are a lot of options to choose from and experiment with.
Hope you have fun using him!
There's also an example stage included.
The file itself is here:
https://cdn.discordapp.com/attachments/ ... C_pack.zip
Beta 4 compatible version:
https://www.dropbox.com/s/y8oyka8i7x1ie ... k.zip?dl=0