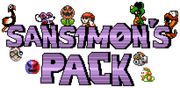 Here's a buncha gfx I made for SMBX2, free to use as long as you credit me.
[2.0 EDIT] With the success of my original pack, i'm releasing an update, pouring a looooot new stuff!
[3.0 EDIT] Lessgo baby 3.0 be droppin', tons o' new content in it, and a guide to making parallax backgrounds!
[4.0 EDIT] And for 4.0, this one is more focused on new NPCs (also too lazy to post gifs so install if you want to see how it looks ¯\_(ツ)_/¯)
[5.0 EDIT] Woohoo it's here, introducing tons o' new stuff, even start World Map content! (Still as lazy about sending gifs tho)
Screenshots/GIFs: