Hi guys, I've customized some NPC's and did a simulated fire generator but I only did it for 2 up and down directions. (I do not know the correct name for this so it will be fire generator even *laughs*) for anyone who wants to download, the link is here after the screenshot.
Screenshot: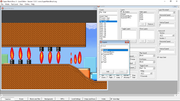 Download link:
https://www.dropbox.com/s/g4lx9uxkuz6ur ... r.rar?dl=0
Okay, that's all. Thanks for visiting my post and downloading the content.