"It's not really goodbye, after all."
HARRY POTTER and the PHILOSOPHER'S STONE
[center]11/5/15[/center][/b][/u]
Wow. I've had a few nice young gentlemen step up to the plate, and so far, I'm liking what I'm seeing! Check out these awesome graphics bigpotato and DarkWolf have put together!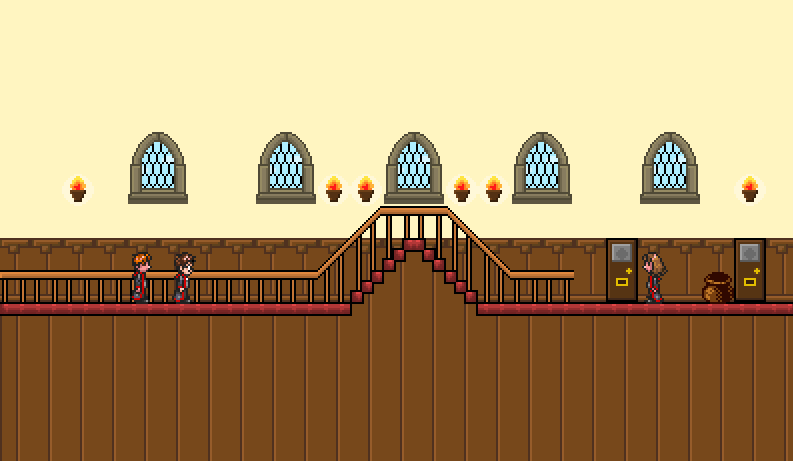 We're still working hard to bring our Hogwarts to life! It'll only come along that much faster if more people join as Graphic Artists, Level Designers, Game Designers, or Beta Testers! We need Graphics and Level Design more than anything, really.
~UPDATES~
Super Mario RPG 2
. But I am gonna be working on this for now. I had the idea, and I wanna stick with it for awhile.
I'm sure that all of you (unless you've been living under a rock the past 17 years) have heard of the tales of a certain young boy and his seven years spent attending a boarding school for wizards and witches. Some of our number have had the chance to experience Harry's adventures firsthand through the myriad of video games released by EA Games for various consoles. Each has inevitably been forced to leave part of the story behind. But what if one developer rose to bring the full story of Harry Potter to life, to give players the chance to see as much of Hogwarts School of Witchcraft and Wizardry as possible, and to play a Harry Potter side-scrolling platform action puzzle game?
We'd have this project, that's what.
Welcome to my personal SMBX reproduction of
Harry Potter and the Philosopher's Stone
! The plan is to create a side-scrolling
action-adventure-puzzle game
. That means fights, puzzles, and secrets all wrapped up into a neat little package. There'll be a bit more
emphasis on wit and problem-solving
than on brute force and skill, though both will still apply.
You'll play as Link disguised as Harry (and friends, possibly. I like the idea of seeing the story from different perspectives besides Harry's, such as from Ron or Hermione's point of view), experiencing the story of the Stone in an episodic format. After each chapter of the story is complete, Harry will return to the
Gryffindor Common Room
(Overworld Map), from which he can choose to play
Minigames
, explore all of Hogwarts Castle and the grounds in
Free Play
and discover new secrets, or continue the
Story Mode
.
Throughout the Story Mode and Free Play you will find
Famous Witches and Wizards Cards
: magical trading cards depicting famous magic users throughout history that are very popular with Hogwarts students. The more Wizard Cards you collect, the more secrets you can unlock around Hogwarts!
If you're interested in this project at all, I ask you to keep a close watch on this page as I update it with my progress and requests, and contribute your own graphics/music/level ideas/game concepts as you so choose! Any support at all would be appreciated, as I know I'd love to see the first ever Harry Potter game in SMBX come to life! Wouldn't you? :3
~Dev Screenshots~
~What We Need~
~The Story~
Do I
REALLY
need to tell you the story of the first Harry Potter book? ...Well, I'll give you the summary from the inside cover, just in case you've honestly never read the books.
"Harry Potter has never been the star of a Quidditch team, scoring points while riding a broom far above the ground. He knows no spells, has never helped to hatch a dragon, and has never worn a cloak of invisibility.

All he knows is a miserable life with the Dursleys, his horrible aunt and uncle, and their abominable son, Dudley--a great big swollen spoiled bully. Harry's room is a tiny closet at the foot of the stairs, and he hasn't had a birthday party in eleven years.

But all that is about to change when a mysterious letter arrives by owl messenger: a letter with an invitation to an incredible place that Harry--and anyone who reads about him--will find unforgettable.

For it's there that he finds not only friends, aerial sports, and magic in everything from classes to meals, but a great destiny that's been waiting for him... if Harry can survive the encounter."
~The Characters~

HARRY POTTER
- The Boy Who Lived. He needs no introduction; his story is legendary. Escaping an attack from the darkest of wizards with nothing but a lightning-bolt scar, Harry Potter grew up under the roof of the least magical family alive. He knew nothing of his heritage or of the wizard school he would soon attend until a half-giant burst through the door and handed him the letter that would change his life.
RON WEASLEY
- The youngest of the Weasley clan, and the first real friend Harry ever made. Ron is the only one of the Gryffindor Trio who grew up with a family of wizards, and yet is the least capable of the three. He attends Hogwarts unsure of his ability to live up to his successful older brothers, but proves himself as a brave and loyal friend to Harry and Hermione.

HERMIONE GRANGER
- Hermione was raised by non-magical parents, yet is easily the cleverest and most resourceful witch of her age. If she weren't sorted into Gryffindor House, she could easily pass for a Ravenclaw.

DRACO MALFOY
- Harry's snotty, self-absorbed, spoiled rich kid of a rival embodies everything Slytherin, and makes it his life's goal to put himself on as high a pedestal as possible. He's almost always flanked by his unequivocally dense goons, Crabbe and Goyle, and without them, he's actually rather cowardly.
ALBUS DUMBLEDORE
- Headmaster of Hogwarts, considered by many to be the greatest wizard of modern times. He acts as one of many guides along Harry's journey through the years, providing sage advice as well as a touch of humor and whimsy. He enjoys chamber music, lemon drops, and ten-pin bowling.
RUBEUS HAGRID
- Keeper of Keys and Grounds at Hogwarts. This larger-than-life caretaker first delivered Harry to the Dursleys when his parents were killed and his house destroyed. Fittingly enough, he was also the one who took him away from his awful relatives and started him off on his magical journey. A fierce friend, Hagrid is much gentler than he looks.
SEVERUS SNAPE
- The Potions Master and Head of Slytherin House is snide, bitter, harsh, and always ready to dish out punishments to members of any house that isn't his own. He's been eyeing Professor Quirrell's job for years, and holds a particular grudge against a certain Mr. Potter...
QUIRINUS QUIRRELL
- The Defense Against the Dark Arts teacher was once clever and capable. However, after a run-in with vampires and hags, Quirrell was reduced to a whimpering, stuttering mess, scared of his students and scared of his own subject. Still, an air of mystery lurks about him... why does he wear that big, smelly turban anyway?
~The Items, Spells and Mechanics~

FLIPENDO
- The basic Knockback Jinx that you learn from Mr. Ollivander after you buy your wand. This spell casts a short-range spark from your wand that can be used to activate switches and defeat enemies.

PETRIFICUS TOTALUS
- One of the more useful spells you will learn at Hogwarts, courtesy of Defense Against the Dark Arts instructor Prof. Quirrell. This jinx places the foe in a Full-Body Bind, unable to move or attack.

INCENDIO
- The Firemaking Charm. Casts a fireball that floats in a straight line from the point where the spell was cast, stopping only when it hits an enemy or a wall. It can melt ice, burn through ropes, and get rid of certain nasty plants.

AVIFORS
- Cast this spell in mid-jump to briefly transfigure yourself into a small bird and fly up to an out-of-reach ledge. Take a running start before you jump to extend the time of flight. (Pending a method of drawing a miniature bird onto the book's sprite...)

VERDIMILLIOUS
- A long-range duelling spell that makes short work of most foes. For reasons unknown, casting this spell at a locked gate while you hold a key unlocks the gate. Magic is a mysterious thing...
FAMOUS WITCHES AND WIZARDS CARDS
- Find all 100 in the set scattered around Hogwarts and the Grounds in Free Play and Story Mode, or by completing various Minigames. The more you collect, the more secrets will reveal themselves around Hogwarts!
BERTIE BOTT'S EVERY FLAVOUR BEANS
- They
mean
every flavour. Collecting 100 of these magical jelly beans will grant you another chance to play before Game Over. A single Bean gives you... a single Bean, a Bag of Beans holds 5, and the legendary Bertie's Box holds 20 Beans.
CHOCOLATE FROG
- These delectable little cocoa amphibians will restore your stamina when it's low. Keep an eye on those hearts, lest Harry end up in the Hospital Wing!

CAULDRON
- Hm... I actually don't know yet. Give me time. ;3
~The Team~
(HELP WANTED! INQUIRE BY PM!)
Stay tuned for more! Any sort of help would be appreciated, so step right up if you're interested in bringing Harry's world to Mario X!
~Spread the Word!~
Slap either of the following codes into your signature. :3