Hello,
I've been recently trying to load a SMBX Level, but each time I clicked on the "Load" button, it showed me the Run-time error N°13.
Here it is: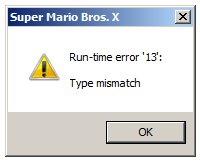 I think it has something to do with the custom graphics folder, because it successfully loads the level without it. I've seen nothing wrong with the folder tho.
For some reason, I've seen that some people have the same error than me, and some other people don't. I don't really understand what's going on with that thing.
Does somebody know what the Run-time error 13 means? I would really like to find a solution...