Note: Please, I recommend this episode to be played on 1.3.0.1. In other versions, some features will be broken
Hey everyone! Because Super Mario All Stars is turning 25 years this year, I came up with an episode to celebrate it. It's an episode mainly based on Super Mario Bros. (All Stars), but combines things from other games (Like Bros. 3, World, 64 and even Galaxy). Even though this is my first episode, I had experience on mario level design a while back. There are 100 stars scrambled across the game, 70 of them being normal stars and 30 being secret stars. There are 10 worlds as well, each world including 6, 7 or 8 levels.
Download:
https://www.dropbox.com/s/faq5aecpfcoe2 ... 0.rar?dl=0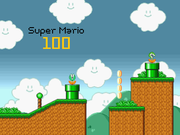 Enjoy!