Been working on a Luigi fan comic for a while. Big fan of the Weeg.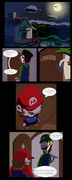 Working on the next page. Trying to make the comic more engaging, silly, and fun.
Hope you guys enjoy!
Added in 1 hour 56 minutes 11 seconds:
I've always been a bit indecisive. Reworking scripts for the next few pages. I want to put out a comic the larger community can enjoy and connect with if even just a little. I think the next few pages will be largely a breather and allow some time to explore Luigi. If you guys have any feedback on the pages already posted, I'm glad to have it.