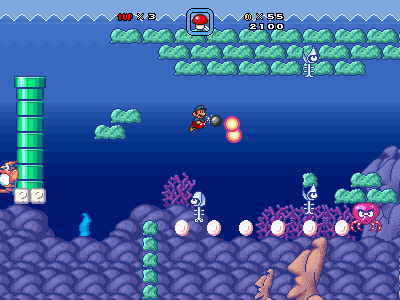 This level is my take on the concept of Super Mario Land in 16 bits. I got 9th place in the latest contest reclaiming my spot in the top 10. ;) The level features not only Super Mario Land graphics in the style of Super Mario All-Stars but also 16-bit chip music made by me. And obviously I took a lot of inspiration from the original Super Mario Land when I designed the level itself, specifically the Easton Kingdom (world 3) and the Marine Pop level from world 2. Enjoy!
Download:
http://www.mediafire.com/download/qo9t49up8qxccuy/
The judges' reviews:
Bomber57 (7.5/10)

This level does capture the essence of Super Mario Land. Well, everything except for the shortness of the levels. This level was quite long, and I got to the point where I didn't really want to keep playing. The custom enemies were really cool, and probably acted as close to as they did in SML as possible (never played the games). The level has some moving platforms, which would be fine but all of them, every single one, just changes direction suddenly. I died several times to falling because the platform decided it wanted to suddenly move the other way and I would just fall into the pit below. This was especially apparent when you had to jump from one platform to the other. The boss was pretty easy, not much to say about that one.

bossedit8 (9.25/10)

Lovely SML level revamped into SNES SMB relative to theme and graphics. I really like this level. It takes a lot of elements that are from SML and everything was greatly executed into SMBX. I like the differency of the whole level but that one secret that's incredible hard to reach, once I reach it I only get like a lot of coins... not that I can brag about for coins but well... let's just say... a power up would be nice? At least a hidden one? Of course I only get a lot of coins and then nothing else... oh well. Regular overworld, underwater and then the ruins with several secrets involved throughoutly and it was fun and challenging. Not much to say since it's SML but into SMBX executed but hey... it was a very good level!

Chad (9.0/10)

This is a really impressive usage of SML1 resources. Many of its design conventions are intact and cleverly used to provide unique obstacles to the player, with highly strategic enemy and hazard placements to give the same ones a high variety of different applications. You even made perfectly remade a lot of enemies that SMBX couldn't normally do very easily, and performed many unique gimmicks from the original game. The level includes overworld, underwater, and castle themes to change things up while providing impressive detail in each place, and the difficulty was fair and consistent the whole way through. Even with a huge variation of different hazards, this level demonstrates great control over how new things are properly taught to the player in order to more easily grasp them. It's also creative how the boss's death seamlessly uses a cloned section to enable a cinematic end. The level's fantastic overall, but there are a few rough spots here and there. The falling spikes are impossible to anticipate until they've already descended upon you, and the boss spawning the rocks is somewhat confusing because the way they bounce changes, which is rather difficult with the fireball already being challenging. Some of the moving platforms awkwardly sync as well, which takes away from the ability to make a stable plan to deal with them. They change directions at seemingly abrupt points, so I'm not always sure if one's going to move away just as I go to land on it, although they're still doable. A few more powerups would have been nice too, although the cannonball projectile is a neat little addition.

Quill (7.8/10)

I liked the level's ideas and how well you presented Super Mario Land here. I can really see the effort you put into this level, but man, it's just too long for my liking. It somewhat kills the experience, but the whole level is still pretty solid and the sections are pretty different from each other so it was still pretty fun.

Wind (7.5/10)

This is a pretty nice level! I liked the Super Mario Land style. The bullet bill blasters that came out from the pipes were cool, but that's basically it. The first section is all about platforming, the second section is an underwater section but then it goes back to the same platforming and dealing with the same enemies. It doesn't really spice things up, either. It's pretty boring. Also, there were these random blocks that fell from the ceiling. What is this, I Wanna Be The Guy?