Welcome to the Kaizo Level Contest!
With the Spring Vanilla Level Contest rounded up more or less, it's time to start something new--a Kaizo Level Contest. This contest will be a chance to submit a real tough level you've made to be judged by our team of judges listed below. We don't want people submitting bullet spam levels or levels that are just normal levels. However, World 8 type of stuff isn't the goal here either. Although gameplay will be focused on in the judges' reviews, your level should still be visually appealing and not have poor design. LunaLua is allowed for this contest, but not SMBX 2.0 Beta nor the Chinese build of SMBX referred to as 1.4.1. Collabs will be allowed, so you can sign up with a partner to make a level too. Without further ado, let's a-go!
Judges:


Their names will be bolded after they have submitted their reviews.
PixelPest
glitch4
Mivixion
Backup:
MECHDRAGON777
Contestants:


Their names will be bolded after they have submitted their level.
PixelPest
glitch4
Mivixion
MECHDRAGON777
RoundPiplup
Mario_and_Luigi_55
ParmaJon
diamantico21
MosaicMario
Camacho
Dominodalek
SnoruntPyro
Akyuu
RhysOwens
Nerx
Spider
(unlimited space)
The Process:
After the contest opens, you will have one month to sign up and later submit your level; make sure it abides to the rules presented below. After the submission period ends, the judges will have two weeks to submit their reviews. Reviews will include a score from zero to 10 out of 10 as well as a difficulty rating out of 20 that will not directly influence the level's score.
Rules and Guidelines:
Violation of a rule in
red
will have you diqualified.
Violation of a rule in
orange
will reduce your final score by one point per rule broken.
Not following a guideline in
black
will not directly affect your score, however the judges will likely mark you down for not following these.
Your level must fall within the Kaizo genre.

You may not share any information about your level:

This includes posting screenshots, download links, videos, discussing gimmicks or features of your level, or any other means of giving out information that could give away which level is yours to the judges.

You may not use the Chinese build of SMBX referred to as 1.4.1 or features not included with the most recent LunaLua package, such as features from SMBX 2.0 Beta.

You may only submit one level:

If you would like to send an updated version of your submission before the deadline, that is acceptable and you will not be marked down.

Your level must be completable and finished.

Your level may not force the player to exploit any of SMBX's glitches other than the following:

(1) Ducking into a space shorter than the player, resulting in the player moving through a wall (2) Spinjumping into a player block resulting in the player to continue to spinjump, even if the new character usually cannot (3) Spinjumping while falling and holding an object with playerblocktop = 1, resulting in the player being able to jump again.

You must provide player blocks to specify what characters the level is completable with:

Unless the level is completable with Mario, please include character blocks.
The level must end in an SMB3 star: A custom graphic of the SMB3 star is allowed, but anything besides that, such as a roulette exit, is not allowed.
The level cannot end the game.
Don't put the level file in the graphics folder: If you use custom graphics, make sure they are in a seperate folder from the level file.

Don't use any music files that by themselves exceed six minutes in length.

Don't include more than one secret star.

Just because your level is hard, doesn't mean it shouldn't be visually appealing and be good from a design point-of-view as well.
Although your level doesn't need to be completely fair, your level will likely not score well if you use poor design elements such as enemy spam, random NPCs or lava spawning out of nowhere, etc.
It is highly not recommended that you submit a joke level.
By submitting your level, you agree to have your level included in a likely-to-happen contest episode containing all of the submitted levels: If you have any issues with this, please send a message to PixelPest via PM.
Don't forget to test your level!
Submitting Your Level:
Post in this topic that you want to participate.
Put your level, custom graphics folder if you included one, music, ReadMe if you made one, and Lua scripts (put them in your custom graphics folder) in a .zip or .rar folder as shown below. Do not submit a folder or use .7z or any other file types.
You may include one ReadMe with tips, but don't put credits in it.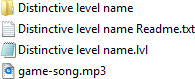 ...and it turns into...

(Images by Valtteri)
After you have archived your submission as shown above, send a download link to PixelPest via PM.
Make sure your level and song(s) have a unique name that will not cause issues with duplicates. Instead of naming your level "Grassy Level", name it "Galoomba Hillway Adventure" for example.
Don't put your name in any of the files.
Name your .zip or .rar file the same as your level file.
When the submission period ends, all of the files will be sent to the judges.
If you have any questions or concerns, feel free to post them here or PM one of the judges. Good luck and may the best designer win.
Results:
Disqualified Levels + Places 8-4:
DQ. diamantico21 - A level that doesn't look like a kaizo, hard or simple level
Disqualified for reason: Not completable; exit is not reachable.
DQ. RoundPiplup - Colorless Forest with Boiling Oil
Disqualified for reason: Not a Kaizo level.
8. Spider - Friends 'til a Certain Part
7. Mivixion - Sky Switches FINAL
6. RhysOwens - Spiky Rinka World
5. Akyuu - Pink Castle of Despair
4. MECHDRAGON777 - 破壊と混沌の放射線虐殺 (Radiation Massacre of Destruction and Chaos)
Top 3:
3. PixelPest - Yoshi's Spiky Citadel
2. SnoruntPyro - SPINJUMP ON EVERYTHING
1. Nerx - Violent Grotto
Deadline: May 18, 2016 7:00 pm EST