Intro theme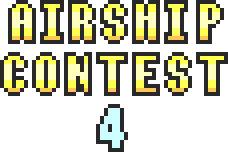 Welcome to the Competition AirShip 4!
ASC ™ is an annual competition of levels organized by the AirShip user , the competition works as follows, participants submits the levels for AirShip, it passes the levels for the judges (yet to be chosen by them) the participant get the highest score win!
And what can not I do?
Participants will be disqualified if they do some of the following actions:
- Use Levels of third
- Use Levels endless
- Bribing somehow some of the judges, (?)
- Do not post pictures of the level participant.
And what I win get winning the competition?
The Champion, win this beautiful Sprite Trophy and one position on the
Hall of Champions.

(!) How to Participate (!)
- Being judge:
Write a post in this thread asking for judge
- As a member:
Write a post in this thread asking for Participant
Participants
[spoiler]- AirShip
- Cacazk
- WhiteAngel
- Keita
-

Ochefe


-

Shinbison


- Firelink
- Nemu
- Alex48
-

Danidark13


- Miles Troopa
- Lasouza
- Super Mario
-

Alkimimgamer


- Uchiha Madara
-

Jarckius


- Eltipsta
- Sezixor
- Zlakerboy357
- SuperYoshiRex64
-

Pivot40channel


- Crusher169
- Xtremegamer51
-

Epoch


- Diego467
- HealthyMario
- TNTimelord
- DarkFeposo
- RarePairGaming
-

Litchh


- MarioGeek2
- HenryRichard
- Nickname[/spoiler]
Judges
Main rule:
Unlike other competitions, the levels of this competition Should have theme SKY in the levels, the level might have a sub-theme.
To have no conflict with the Contest 8, the period shall be:
August 22.
[/center]