Thread 2:
http://www.supermariobrosx.org/forums/v ... 74&t=13448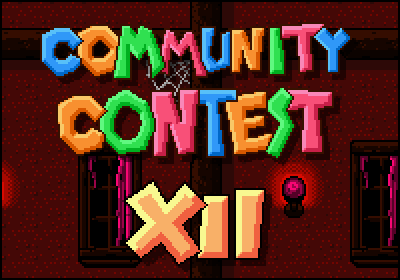 March 1
Congratulations, Quill. Results at last! Great thanks to our wonderful judges who made this possible! I'll be posting one tier a day. Each tier contains 10 levels. Enjoy!
February 14
The levels have now been sent to the judges! Expect the first results in around two weeks!
February 14
Time's up! We got 82 submissions which is great because I, along with others, feared that we'd get less submissions than normal due to the contest taking place when most of us are in school. I'll send the levels to the judges shortly, probably give them some two weeks to work through reviewing each and then we'll have results. Good luck to all!
January 14
Welcome to the 12th Community Contest! With 11 contests behind and the Tower of Biased series concluded with the 10th installation, it seems only fitting to try something new. First of all, LunaLua is allowed. Secondly, the contests will no longer be seasonal. Meaning I will no longer pretend that the contests are held regularly. :P I'm positive the contest will happen at least once a year from now on.
Due to the delaying of the release of SMBX 2.0, we won't be using it. If you want to use features from it, you will have to add them in a file in your level folder. I also may have mentioned in public that we also planned to have a restriction of some sort, like the randomly generated level names in MAGLX, to prevent people from submitting levels that have been prepared beforehand, but we ultimately decided against it. Afterall, this is just a level design contest and submitting an old level doesn't give you an advantage because anyone can start beforehand if they wanted to. And we always give one month to make levels after announcing the contest. I would argue you can design your best level well in that time and there's little you can do to improve your level in that extra time you achieve by starting beforehand.
You have until 14th of February (one month from when this was posted) to submit a level. Sign up by posting in this topic saying that you're going to participate! Read the rules and send your level to me due the deadline.
Deadline
14th of February, 10:00 PM UTC.
Judges
Those who have submitted their reviews will be
bolded
.
Chad
ElTipsta
Quill
Shinbison-Kof
Valtteri
Participants
Those who submitted their level will be
bolded
.
How it will be run
You'll submit a level (that meets the criteria stated under Rules) before the deadline, and after that the judges will take a week or so reviewing them. Each level will have a score on a scale of 0-10 and will be given a short review from all the judges.
Rules
Violation of the red rules will result in a disqualification.
Violation of the orange rules will result in your final score being reduced by 1 point.
The judges mustn't know which level you made.

You may not reveal any details about the level to the public before the judges are done judging all the levels. This includes showing screenshots of the level prior to this announcement. You may not submit a level that you've posted screenshots of, or videos for that matter. And you can't say which level you made.

You may only submit one level.

If it's an accident, we'll just drop the extra level but if you submit a second level under another name, both levels will be disqualified.

It has to be made by you and you alone.

The level, that is. You can use anyone's graphics/music (unless they haven't permitted it obviously).

You must submit the level before the deadline.

The level must be complete and completeable with at least Mario. If you want the level to be played as another character, add character blocks in the level.

The level cannot end to other than a Star (SMW or SMB3) and it can't have more than two.

The level can't end the game.

Don't put the .lvl or the music in the graphics folder.

Do not use music that goes beyond 6 minutes.

And this means a single song, not all the songs combined. I don't care how many songs you use, just make sure none of them as an individual goes beyond 6 minutes.
Levels with unreasonable difficulty will be scored low. Our judges are not required to beat levels if they're crazy hard. This is because they often take too much time to complete, and frankly, they are particularly tedious. You have been warned.
By submitting a level you agree that it will be in a public episode containing all the submissions.
And don't forget to test your level. You have no idea how many submissions we get with incorrect start positions and warp directions every time! And make sure you don't place the (optional) secret star in the same section as the exit star. One section can only have one star or only the other one will add to the star counter. You may update your submission (send it to me again) as many times you want until the deadline, but you shouldn't send it until you're sure it's totally finished. If you do happen to have to update it many times, make sure you obey the following rules about submitting a level to make the replacing process as simple as possible for me.
How to submit a level
Sign up by posting in this topic that you want to participate!
Put your level in a ZIP along with the optional custom graphics folder and custom music.
Please don't put the files in another folder before archiving because I will have to move them out afterwards and that's more unnecessary work for me.
You may include a readme with tips if you want. But if your readme only has credits for graphics or something, please put it in the graphics folder. I only want critical info regarding playing the level next to the levels themselves.


LIKE THIS

→
Archive your level as shown above. Don't put the level, music or the possible readme inside the custom graphics folder as I have to move it out and it slows down the process unnecessarily. Make sure the custom graphics folder and the level have the exact same name as otherwise the custom graphics won't display in the level.
Also put the additional LunaLua files in the graphics folder.
Give your level a unique name. Don't name it "Level" or "Contest" as that just makes organizing the levels a pain and at worst levels will get overwritten because they have the same names.
Name the custom music as shown above. Here's an example. If it's the desert theme from New Super Mario Bros. Wii, don't name it "Desert" or "Custom music" because it could overwrite an existing custom music with the same name when I pack the levels for the judges. Renaming songs and then making sure they still work in the correct levels is extremely time-consuming. So do this instead: name it nsmbw-desert.mp3. That's a great way to prevent overwrites, and if somebody happens to use the same music, the overwrite is actually beneficial as the double song will be eliminated and the package size will be reduced.
Don't name your readme just "Readme" either because, again, that'll definitely cause overwrites. Put the name of your level in the beginning of the name as shown above.
Please name the .zip after the level, too.

Send your level to me in a Private Message. I will then send them to the judges in one package.
RESULTS
Tier 1
Tier 2
Tier 3
Tier 4
Tier 5
Tier 6
http://www.supermariobrosx.org/forums/v ... 74&t=13448