SMBX 1.4.5 Smokey Sky
Posted: Tue Apr 21, 2020 3:52 pm
Well this is my first level i post here, and probably my last one in 1.4.5 (maybe i will still use it idk) because i want to move my project to the version 2.0; this level was for the 8th worldof the project. The level is based a little of the silhouette levels in DKC Returns and DKC TF. I will be happy if you play it and told your opinions about it.
Screenshot:
Download Link:
http://www.mediafire.com/file/iwnkde7yp ... t.rar/file
Smokey Sky 2.0
-Added Eyes to the sprite players just like the npc´s
-I added a visual indicator for the Shy Guys in the Flowers
-I fix an error of layer wiht the extra light shard
-I activated Luigi and Toad to be selectable in the select screen of SMB2, I didn´t put peach because she makes the lever easier.
Screenshot: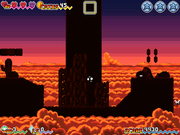 Smokey Sky 2.0 Download Link:
http://www.mediafire.com/file/eh2xnjkct ... 0.rar/file