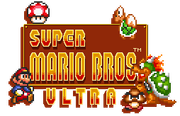 Super Mario Bros. Ultra
is a
Super Mario Bros. X
project being made by me.
Super Mario Bros. Ultra
is entirely SMB1 themed, and is meant to take place after
Super Mario Bros.: The Lost Levels. The story of the game is simple, King Koopa has captured Princess Toadstool, leading Mario on a wild goose chase across 17 worlds to find her!

This project is inspired by:
Super Mario Bros. 0
Super Mario Bros. 1X
Super Mario Unlimited
Mario Forever

This episode will only be playable with SMBX2.
---
The death function is unlike the normal death mechanic, the player has infinite lives, but has a death counter that counts all of the deaths throughout the entire game.
---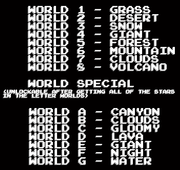 Super Mario Bros. Ultra has 17 worlds, Worlds 1 through 8 are the normal worlds, and after beating World 8-4, a path to World Special will open. World Special can only be accessed after getting all of the stars in the Letter Worlds. The Letter Worlds can be found via various secret exits in the normal worlds.
---