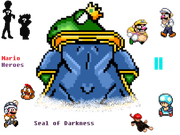 Hey there,
it's been quite a while, since I posted some progress Updates, but now it's time. The First Demo of
Mario
Heroes
2
is done and almost the next aswell.
GENERAL
STORY
THE

HEROES
PROGRESS
SCREENSHOTS
DOWNLOAD
https://www.youtube.com/watch?v=wP_rKEqzu9o&t=3s
I'm know activily looking for level designers, like everyone does. If you like this project, I would also be happy about Feedback and Ideas.
If you wanna support MH2, I'd would really apperiate if you'd put this in your siganature