Disclaimer:
This is completely unrelated to
Astroclimber26's Super Mario 2D Land project.
I am currently in the process of remaking Super Mario 3D Land in SMBX2. This project aims to bring the 3D levels into 2D as accurately as possible, and comes with custom graphics, UI, and music. All custom graphics and UI will be hand drawn by me. I only plan to remake World 1 at the moment, however if there is enough interest I may continue this project further. There will not be a demo download at this stage as the project is in an unsatisfactory state to release in.
Please note that this is only compatible with SMBX2.
World 1 Progress:
World Map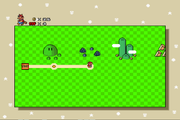 1-1