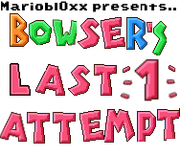 Yes, our second project. Bowser's Last Attempt! I have redesigned this post as I thought it looked ugly.
Ah, yes, so Bowser's Last Attempt is a SMBX2 PAL build episode utilizing LunaLua. It was created in such a way that it looks and feels like SMW, just like any hack on SMWCentral. One set of hacks were the biggest inspirations for this Episode.
New Super Mario World 1: The Twelve Magic Orbs and the sequel, Around the World.
They are great hacks go check em out.
This episode uses a very underused .lua script file known as viewport.lua which makes the screen smaller, just like SMW.
Currently World 5 out of 7 are finished. It will have 7 worlds (or 8 if a world with 3 levels counts and a special bonus world called World X obviously inspired by VLDC hacks on SMWCentral. Some more features include:
---
*Only SMW Custom Music*
*Title Screen*
*and obviously more*
---
Unfortunately, I forgot all the credits, so if you own something in this episode, please pm me
Enough talking, I will show some screenshots, keep in mind that these were taken WAY before the demo even was released, so there might be unused content in them, warning aside, check em out!
This episode will probably not be out until next year so stay tuned for that.
With that all being said, the demo can be downloaded below:
https://bit.ly/2r1mQyE
And the required SMBX version:
https://bit.ly/378ki26
And an older let's play of World 1 through 4, but keep in mind that it is VERY outdated!