(Sorry that this logo's pretty small)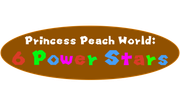 Heyo, folks! Thanks for stumbling upon this project.
STORY:
It's the Mario Bros. turn to be taken away by Bowser! After 25+ years of Peach being rescued by Mario, the tables (& Chairs
) have been turned! Peach & Toad have to get the 6 power stars to get into Bowser's Fortress.
Good Luck!
SCREENSHOTS:
Q&A:
Q:
Why Princess Peach?
A:
Peach has never had her own regular adventure. No, Super Princess Peach doesn't count, because that seemed to be representative of stereotypes. In this episode, Peach (& maybe Toad) has an adventure just like SMB2.
Q:
6 collectables to enter a castle? Where have I heard that before?
A:
Yeah, the concept is pretty similar to SML2, but as far as I know, there's no episode out there like that.
Q:
How much experience do you have in SMBX level design?
A:
I'm not necessarily a total noob, I'm not awesome at it, but I think I can make levels that are as enjoyable as Nintendo's levels...
Copy this into your signature if you want to support this project:
Code: Select all
[url=https://www.supermariobrosx.org/forums/viewtopic.php?f=90&t=25978][img]https://i.postimg.cc/p5bvYvjB/PPW-6-PS-001.png[/img][/url]
No download for now, only once it's finished.