Hi everyone, I've been looking for a great world map graphics pack for forever, and I can't seem to find one. So I am requesting an SMB3 styled world map, that should have changing elevation, with these worlds(tiles:
1: Grassland/Jungle
2: Desert/Beach
3: Ice
4: Mountain/Volcano
(Pipes do not need to be included)
5: Sky
To make this all possible, just replace the SMB3 tiles and whatever.
These tiles can be replaced for other things, I don't care about them: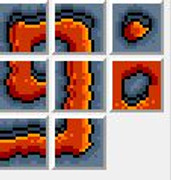 I would like to have these things to act like water: Purple poison, clouds, and quicksand. If you are not able to fit all of them in (or any), they are prioritized in that order.
LEVELS: I would like a few custom levels:
A cannon level (like the new games) over the spiral castle thing (ID 7)
Bridge yellow and red levels that fit with the bridge tile over SMW water levels (?) (IDs 31 and 32)
A generic big factory over the bowser factory or whatever (ID 22)
A generic small factory over the wide entrance tower thing (ID 16)
SMB3 restyles of all SMW Levels (And make IDs 18 and 19 gray doors)
Scenery: This is a very important part of the world map:
The trees and ruins blocks in this picture: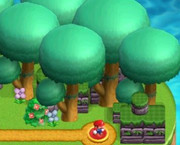 The trees over the tall snow mound (ID 61) and the blocks over the moon (ID 60)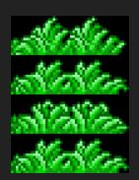 This grass SMB3 styled over the red muncher (ID 6)
Make a snowy version of the small green hill (ID 13)
Make SMB3 styled versions of the tall hills (IDs 19, 23, and 26)
A pink version of the fire flower (ID 5)
The mushroom should stand straight up (ID 11)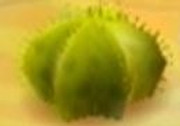 A spherical cactus like this one over the dark gray rock (ID 32)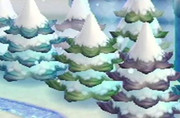 A tree like these (only the green one) over the dirt mound (ID 2)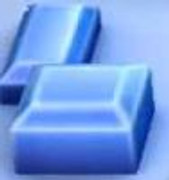 An block like either of these over the gold door (ID 3)

Some snow mounds like these over the blue door (ID 40)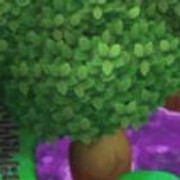 Both trees (IDs 52 and 53) should not have smiles, and be styled like the trees above, but small, and have the blue-ish one be white
Bridge supports over the path split sign (ID 41)
Everything else you can make as you want, but try to make it more or less like the tiles screenshots
Paths:

IDs 1, 2, 8, 9, 5, 7, 6, 25, 24, 20, 21, and 27 - 30 should all look like this
IDs 10 - 13 should be round bridge curves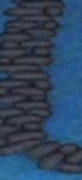 IDs 14-17, 3, and 4 should look like this (round curves, 3 and 4 can be straight)
Also have all bridge tiles be darker than the original
And that sums up my graphis request. Thanks!