Alright so all but one rank has been revealed which will be at 10,000 posts. Picking up from the Inclusivity Suggestions thread, it would be best to replace the rank set we have in the meantime. A couple have already been replaced (Kamikaze Koopa, Pokey, and Mega Mole) with smaller and static ranks. The ranks we have now would be completely different with
all
of them being icon size and static like proper ranks instead of full size animated sprites. This will have the benefit of being less distracting, a significant reduction in bloated post size, and of course getting rid of unnecessary movement for people with vestibular disorders.
Here is a screenshot of the proposed ranks: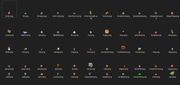 Those will be the actual sizes. Please leave any thoughts/suggestions here.