>>BRAND NEW DEMO UPDATE VERSION 1.5 WITH EXTENDED GAMEPLAY! DOWNLOAD LINK BELOW<<
http://www.mediafire.com/file/it9mvompr ... +FRESH.zip
Bucket Fresh Studios Presents
SUPER MARIO FRESH
Legends of The Unorthodox
PREVIOUS RELEASE
( Demo Beta 1.0 )
LATEST RELEASE
( Demo Beta 1.5 )
VIDEO PREVIEW BELOW
https://youtu.be/qX6KGtZHvFE
https://youtu.be/yauUKKpkncw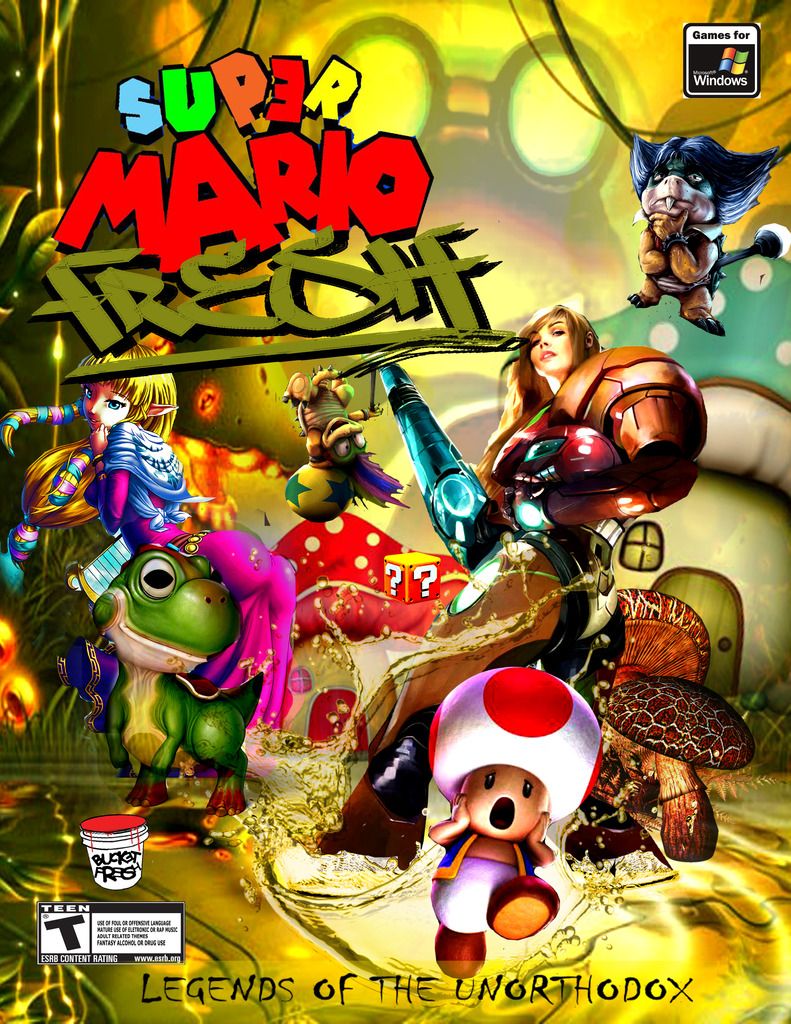 Mario Prologue
Day by day passes as the lonely plumber or known as the great ex plumber started to feel retreat from Brooklyn New York all at once. He started to make way back to the Magic Kingdom Lands leaving his apartment behind where he once discovered the Mushroom Kingdom. Just before the day and time he made his way towards the entrance of the Magic Lands, he was stopped and right before him appeared Princess Peach. She walks towards Mario and starts to kiss him softly. Then after Mario takes a step back to look at Peach just to find another unfamiliar female standing face to face. This female with dark green hair starts to laugh as she aims with an arm blaster on his left arm pointing at the Mario. Shortly a big blast exits from the female's cannon arm as Mario jumps high enough to dodge the beam in time. Landing on a weak area of the floor, Mario breaks through falling endless into a dark cold bottomless pit eventually crashing into a strange dungeon floor. Bright candles and huge insects moved slowly across the walls as Mario peeps a glance at a sleeping female on a bed of bright red roses. As Mario gets up and walks towards the sleeping female a shadow appears behind, above and fast. Mario turns quickly around to find a young man in green with a huge golden sword lunging towards to slice him. Just as Mario was to get cut in half, he awakes strongly in sweat around in his apartment room back in Brooklyn.
"I gotta stop eating so much pizza cheeseburgers!! Mama Mia!!" says Mario. Mario starts to fall slowly back to sleep still under slight distress and fear he wakes one more time to an open falling sky for mins trying to gain ground. Mario hears a voice in his head, "Wake Up, Please Mario Wake up........"
Princess Peach Prologue
After a recent victory defeat over King Koopa known as Bowser the Magic Lizard Turtle King retreated from the Mushroom Kingdom. Instead after some time, saught refugee in Dinosaur Land where he rebuild ed his castle known in the area as Bowser Valley. Over the years, the Mushroom Kingdom felt under strange settle of peace. The lands started to divide between the Kingdoms and granted new favors of pipes being used as access travels signed with agreed treaties by Princess Peach. b While every King held one of the known magic power wands, Peach per sued the studied of magic and science behind the wands. Studies of her increased magic started to startled the Kingdoms and hers. She began new experiments unknown to the magic of the Mushroom Kingdom which soon started to concern most of the toads. Soon after, an civil war broke out between the toads of the Mushroom Kingdom. Outrage cries bursted between villages against Princess Peach new science practice of hybrid magic soon to be called Astrislogy. Using this new found magic, Princess Peach was able to study and focus multi universes along with new star galaxies.
Some toads fought to keep the Princess safe and protected while others wanted to have Peach put away. Forced to use magic against toads,the civil war was once over and peach went back to rebuilding the Mushroom Kingdom. Peach started to enhance the Kings of Lands Power magic wands and with great power came magic unseen to each of their own Kingdoms. The toads that had rebelled against their own Princes were banned from the Mushroom Kingdom. Peach then after started to work and build another castle away from the main Castle of the Mushroom Kingdom. This new found castle was the princess own science lab castle where she practice and became more powerful with the science of this new found magic. Fearing of others trying to over thrown her and take over her new found magic secrets, Princess Peach cast an magic block barrier spell around her new castle. The princess started to seem less herself as the day passes. One startled night, an big explosion erupted in the magic castle belonging to Peach. Fancy lights and strange colors started to emerge all over.
Bowser Prologue
Bowser Valley was strangely under peace... All Koopas that served the Dark Turtle lord had positions guarding his new castle summit and throughout his Kingdom. The baddies of his Kingdom were held under much rule and control under King koopa leadership. Years passed as Koopas were sent to have their own village off deep end of Dinosaur Land given by Bowser. Goombas were also sent to have a village of their own north of the Dinosaur Lands near the muddy seas of Brick City.
Displease with their fathers new evil peace of ruling, Larry and Ludwig koopas of the Koopalings attack and over took their father's throne, Bowser. Locking Bowser away sealed with strong dark magic from their new stolen power magic wands from the two kings of ICE LAND and PIPE LAND. These two specific wands were known for having enhance magic powers that out stood the magic powers of the other Kings of Lands. Being able to seal Bowser within his own castle was easy. Larry and Ludwig then sealed the rest of their Brothers and Sisters of the Koopalings and then later transformed them with enhanced powers having mind control over their deeds. On the brightest day of that year, Larry and Ludwig attacked the Mushroom Kingdom.
Luigi Prologue
The lone Mario brother residing on the island of Yoshi's for years after the events of Bowser's last defeat. Luigi help preserved the island for the Yoshi's by helping them keeping it safe, fun and fruitful with delicious berries. Time passes as Luigi went to visit Princess Peach at her new found laboratory castle located out in the Mushroom Kingdom fields. Luigi took time each week from the Yoshi island to visit Princess Peach and help aid her with her new magic experiments which she pursued. One dark mysterious night, Yoshi Island was under an ambush attack by the Goomba's. The vile Goomba King invaded the island and started to take over certain areas of the island where the yoshi's were forced to moved on the side of the island where there was easy to escape. The Goomba King's new practice of Dark magic influenced the new creatures and stronger Goomba's on the island where they built an magic dungeon. Word had gotten back to Luigi while visiting Peach and soon after he heard the news, he man arrangements to head back to the Island where he can help the Yoshi's. Just as Luigi was about to leave, Princess Peach grabbed Luigi and began to kiss him softly. Luigi quickly open his eyes after the kiss while peach whispered in his ear, "you can have it." She hands Luigi an dark magic stone soon after and tells him, " only you can find what I need to complete this spell. This spell will help the Mushroom Kingdom restore it's earliest form of beauty and peace. All the abandon clubs and houses that are haunted with ghost hold the secrets to unlocking the stone. I know you can do it Luigi !." Hours later, Luigi wakes up near the caverns of Dinosaur land, unsure how he gotten there he checks his palm and notices the dark stone.
>>ABOUT THE GAME<<
Super Mario Fresh is an open world attempt type of Mario Bros classic gaming. Free exploration of an Hub level type of "MAIN LEVEL" that connects into other level areas, Land areas, Dungeons, Castles, sub quests and more. Stars are required to be collected to further into lock areas of the Main over world and within level areas themselves. This may require back tracking and finding hidden explorable areas to reach collection of more stars. Finding characters and switching in and out of levels will help reach areas that only that character alone can explore. Talking to various toads or friendly baddies of the lands you encounter will help solve and figure into the story line.
>>DEMO GOAL<<
This open world playable demo requires for you to find 25 stars to open and unlock Princess Peach Magic Castle of the Mushroom Fields and finish the first part of the castle area with her to complete the demo. Their are however at least 40 stars in this demo and good huge amount of extra levels and side quest to complete before ending the demo game which leaves two areas open for different endings of the current demo release.
HINTS
>>Try Lasting along time once you get a hold of the Blue Magic Boot. You Need it to find the second Forbidden Zone open in the demo.<<
>> You need the Hammer suit to destroy harder enemies that will relieve a star.<<
>> You need to get a Hold of Link to open to into the Main Mushroom Fields to find the secret entrance to the Green Zone.<<
>> Fire flowers are going to be important to get extra stars throughout the game due to the Ice King.<<
>> Special Weapon Items are held in certain dungeons to defeat bosses.<<
>>Toad's double jump is most useful to reach hard areas.<<
This Demo Includes

Playable Characters
MARIO
TOAD
LUIGI
PEACH
LINK
KNUCKLES
GOOM GOOM
YOSHI ( YoYo)
ROSALINA

full game will include playable
SAMUS
unknown KOOPA
Playable Areas
MUSHROOM KINGDOM FIELDS
MUSHROOM FIELDS FORTRESS ( Mushroom Kingdom Fields )
ABANDON VANILLA TAVERN ( Vanilla Dome )
VANILLA DOME
BRICK CITY
DINOSAUR LAND
DIRTY FALLS
THE FORBIDDEN ZONE 1 ( Brinstar )
ABANDON HAUNTED GHOST CLUB
ICE LANDS
PRINCESS PEACH MAGIC ASTRIS CASTLE ( Mushroom Kingdom Fields )
TOY FACTORY ONE ( Mushroom Kingdom Fields )
YOSHI MAIN ISLAND ( Dinosaur Land )
THE FORBIDDEN ZONE 2 ( Hyrule Plain Fields )
THE GREEN ZONE ( Mushroom Kingdom Fields )
Including 15 open levels and a Hub Exploration level. ( Moderate for demo only )
Over 25 playable levels within the main Hub over world level exploration.
Over 20 original composed music tracks featuring alternative underground Hip Hop and EDM.
Includes Original Produced and Scored Soundtrack available with the demo off Bandcamp.
TBA..
>>NOTE TO GAMER<<
This is an open beta demo so their are bound to be known mistakes and spelling errors not completed yet due to being completed so please feel free to make this aware. There may be some title clashing and short cut offs, but nothing from preventing the fun of completing the game. Please let me know about some known bugs so I can correct them as I continue to build the game.
>> CLICK BELOW FOR THE SOUNDTRACK<<
https://bucketfreshstudios.bandcamp.com ... ble-demo15
>>BRAND NEW DEMO UPDATE VERSION 1.5 WITH EXTENDED GAMEPLAY! DOWNLOAD LINK BELOW<<
http://www.mediafire.com/file/it9mvompr ... +FRESH.zip