Hello everyone. When I released my Demonstration of my episode of Adventurism in the 1.4.4 Super Mario Brothers Extreme Engine, I failed to realize that there was an issue that was brought to my attention via the user "Grand Goomba". They stated that when they tried to activate their save data, the message of the save data Occurred. Now I have seen it for myself and I am very perplexed. Now of course it still allows me to play the episode until I go to exit and save to where I get "Subscript out of Range".
Here is the applicable Screenshot.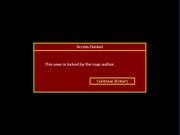 Please can you help me as soon as possible? I have looked up this solution on Youtube however there is no such existing video or guide for a fix...